Other Available Dogs
Please be patient while the pictures download.
Unfortunately, we do not always have enough foster space to accommodate the many Border Collies who need to be rescued. And luckily, some owners who need to place their dogs keep them until a suitable home is found. The dogs below are listed as a service to those individuals or other rescue groups. Great Lakes Border Collie Rescue has not met these dogs and therefore, makes no representations of the health, temperament, or suitability of these dogs. Nonetheless, they still need homes. If you are interested in one of the listed dogs please contact the owner/shelter directly. These are not GLBCR foster dogs and it is not necessary to fill out an adoption application. All adoption details will have to be negotiated with the owners of the listed dogs. Please be patient while the pictures download.
We try to keep these pages up to date. Please email us if you are having difficulties getting in touch with one of the listed rescuer or if a dog has been adopted.
Other border collie rescues in the area:
Comebye Border Collie Rescue (formerly APA of Southern IL)
Midwest BC Rescue
MidAmerica BC Rescue
Wisconsin BC Rescue
Cubbie -- Just Been Adopted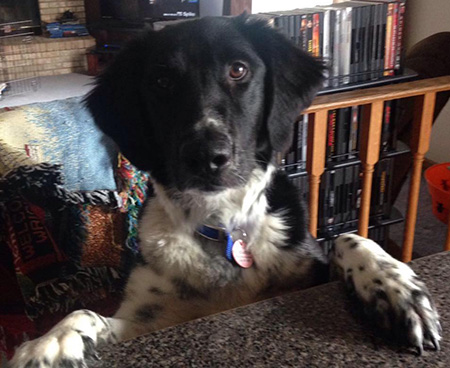 Gender: Male
Age: 1 1/2 Years
Location: NW Indiana

Hi my name is Cubbie, Unfortunately my owner
works too many hours and decided the right thing was to help
me find a family that can spend more time with me. I
have been working with trainer Curtis Scott and he says I am
such a smart guy! Let's see, I am good on leash,
know obedience, am crate trained and like to play in dog
parks. I love people, but do best with older children,
those little ones are sort of scary to me (I do not like
hands over my head.) Do I sound like a good
fit for your family? Cubbie is a 1 ½ years
old neutered male. He is microchipped and current on
vaccinations. Cubbie is currently with trainer Curtis
Scott, and is unable to return to his previuos home.
please help us find his forever family!

Chase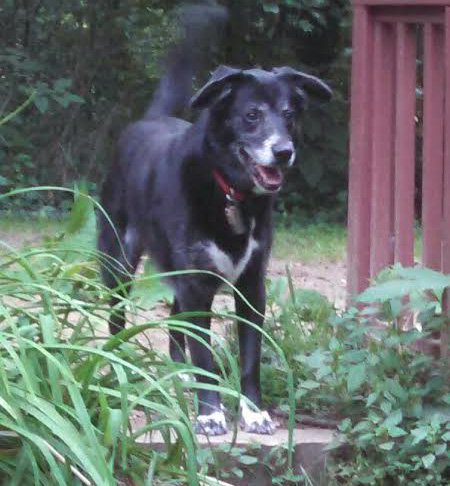 Gender: Male
Age: 5 Years
Location: SE Michigan

Chase loves to play with other dogs, he needs a proper intro as he tends to be a bit dominant. He loves to play ball, tug, and chase with another dog. He is potty trained, and knows lots of commands. Sit, shake, down, off, back, out, come, high five, give me 10. He does chase cats but has never hurt one. He does not care for toddlers and did bite one (startled while sleeping), he also tends to jump on visitors when they enter the house. For these reasons he would do best in a home with animal friendly children over 8 years. He is allergic to Chicken.

For more information, contact Dianne.
Ren -- Adopted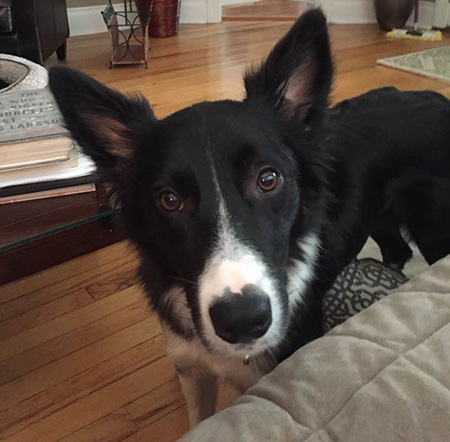 Gender: Female
Age: 2 Years
Location: Paducah, KY

Ren is her name, and she is around 2 years old, and active to working energy level. However, she has developed an off switch. Ren is definitely purebred, was a stray, and a shelter in KS had her. She was going to be pts, so I said I'd take her. She is super biddable, loving, but determined so needs a strong handler. So no young children or children that are not used to handling pushy dogs. She would be great with kids, as she is super friendly, however she would run them. We cat tested her, and she was fine with them, but she will herd them. When she first came to me she was really a handful, and I would bet a lot someone got her as a pup and did not train her then dumped her when she was out of control. She had certainly been an inside dog (nice coat). Everyone (including a trainer who helps me herding among other things), agrees she comes from sports or herding lines, and thinks she is a very smart and great dog. She is very self-assured, and herdy, and playful.

For more information, contact Chris Mueller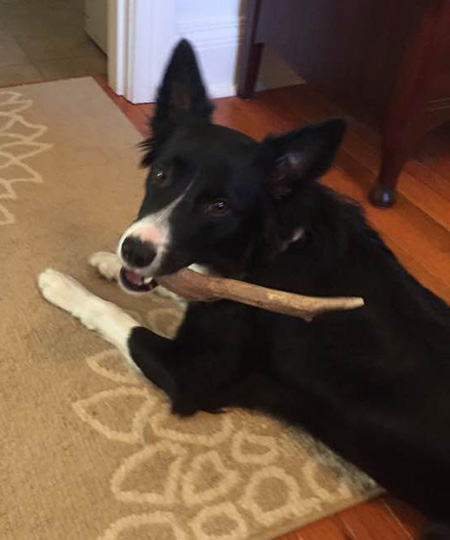 RC - Adopted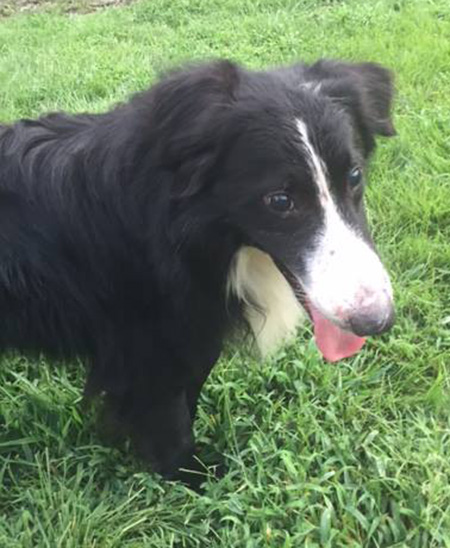 Gender: Male
Age: 2-5 Years
Location: Paducah, KY

RC is a super mellow, friendly, 2 to 5 year old male (mix), who is low energy and just happens to be blind. He is also utd on all, neutered, on HW and flea preventative. He is great (totally nondestructive) in the house, and mostly potty trained, however I still have him wear a belly band as he will occasionally lift his leg.

For more information, contact Chris Mueller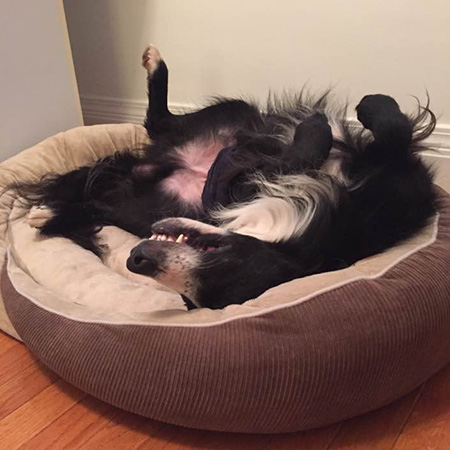 Bella -- Just Been Adopted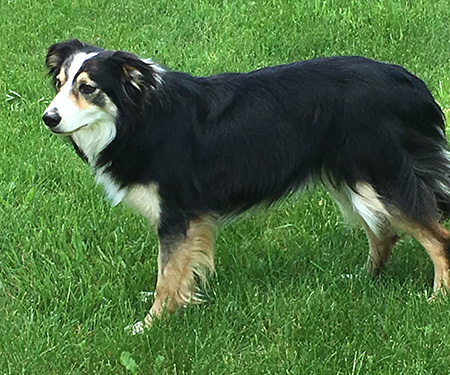 Gender: Female
Age: 5 Years
Location: Verona, WI

Bella is a lovable, healthy, spayed, 5 year old, rough coat, tri-color Border Collie. While she is uninterested in herding sheep or chasing balls, she loves being with (and herding ;) other dogs. She is wonderful on the leash and happy to walk or jog. Bella is shy upon meeting new people, however tail-wagging friendly and very submissive. She is great in the house, knows her name, and will come, sit and lay down on command. Like many dogs Bella does not like thunder, gun fire or fireworks. Bella needs a large enclosure (tries to escape crates and small kennels) preferably in a home with someone home during the day.

For more information, contact Colleen Bass or call (608)845-3143.