Other Available Dogs
Unfortunately, we do not always have enough foster space to accommodate the many Border Collies who need to be rescued. And luckily, some owners who need to place their dogs keep them until a suitable home is found. The dogs below are listed as a service to those individuals or other rescue groups. Great Lakes Border Collie Rescue has not met these dogs and therefore, makes no representations of the health, temperament, or suitability of these dogs. Nonetheless, they still need homes. If you are interested in one of the listed dogs please contact the owner/shelter directly. These are not GLBCR foster dogs and it is not necessary to fill out an adoption application. All adoption details will have to be negotiated with the owners of the listed dogs.
We try to keep these pages up to date. Please email us if you are having difficulties getting in touch with one of the listed rescuer or if a dog has been adopted.
Other border collie rescues in the area:
Comebye Border Collie Rescue (formerly APA of Southern IL)
Midwest BC Rescue
MidAmerica BC Rescue
Wisconsin BC Rescue
Moss - ADOPTED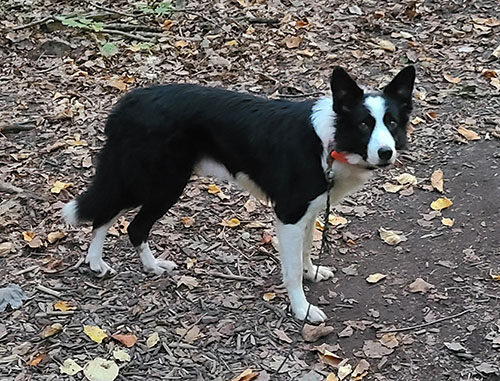 Gender: Male
Age: 10 Years
Location: Mid-Michigan


This world traveler has been around the block and handles everything in stride! Moss has impeccable leash manners- it still amazes me after having him a few months. He trots beside the bike like an old pro - easiest dog ever for that. He has been in a kennel his entire life but I have acclimated him to city life and apartment living. He was quick to house break and asks to go outside, he is fully house broke in my place. Although he is getting better he doesn't know a lot of house rules -like getting in the garbage or jumping to see what's on the counters. He doesn't jump up on furniture and is very quiet in a kennel. He travels well.

He is willing and learns quickly. I don't let him off leash unless its a fenced year- he seems a bit deaf - or maybe inattentive, he comes back most of the time but if he is on a scent he seems very deaf! He has a powerful presence, when he plays he can intimidate shyer dogs, over all though he is an easy going dog who doesnt start anything No idea what he is like with cats or kids.