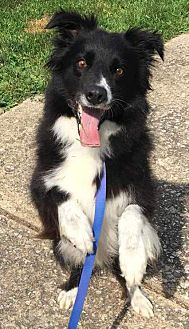 Gender: Female
Age: 1-2 Years
Location: Elyria, Ohio

Macy is a WORKING Border Collie, she MUST HAVE a WORKING home. A working home means a home where Macy will have a job; a job can be fly ball, agility training, herding of farm animals, jogging / hiking partner and this means daily for miles not a 1 mile jog. Macy MUST HAVE A JOB or she will find something to entertain herself which is not a good thing. With that said, we cannot approve anyone living in a condo, apartment or rental. Macy is adorable, full of energy, and VERY SMART! She loves walks and catching the ball. She is your typical Border Collie. She is focused on you throwing a ball and her getting the ball. Want her to do something, you don't need treats, just a ball. She will do anything you ask for if you have a ball.

Macy walks well on a leash and is fine around other dogs as long as they aren't in her face. If they bark at her or try to be pushy, she will tell them to leave her alone. She was taken to the dog pound for chasing and killing chickens.... she is a Border Collie so their job is to "herd" things, so we aren't sure if she killed the chickens while trying to get them to do what she wanted or "hunted" them. Our guess is they weren't listening! Macy needs a home with no cats.

Again, Macy is a working dog and needs a working home. She is not a dog that would do well in a condo, apt or small yard. She needs to have a job like all Border Collies and needs a home with BC experience. If you love Border Collies then you will LOVE Macy. She is such a cool dog! The foster home is really enjoying her.

For more information, contact Multiple Breed Rescue.