Ophelia
Gender: Female
Age: 8 weeks
Height: Wee
Weight: 10 lbs
House-trained: learning
Fenced yard required: no
Location: Mid-Michigam
Foster Home: Tammy B.


Crate-trained: learning
Treat-motivated: yes
Toy-motivated: yes
BC Experience Required: no
Good with dogs: yes
Good with cats: yes
Good with kids: yes
Commands:
---
Ophelia is one of the bigger puppies She is also one of the more vocal puppies. She is very mild mannered, but she knows how to let you know when she is not happy about her situation.
Ophelia is around the 10 pound range and of normal size for a dog her age. She appears more of a Labrador body type and behavior. Very sweet and affectionate. She wants to be with her humans and she also is always up for a good game of chase and wrestle with her siblings. She will have a smooth coat and seems to have more of the lab personality. She loves to play with toys of all kinds and she really likes her people. She also loves the resident dog. She is appropriate in play with the big dog and she responds beautifully to cues given. She is kind of shy at first meeting, but she warms up really quickly and loves people and dogs. She is fine with the resident kitty. She respects kitty's boundaries and leaves her alone.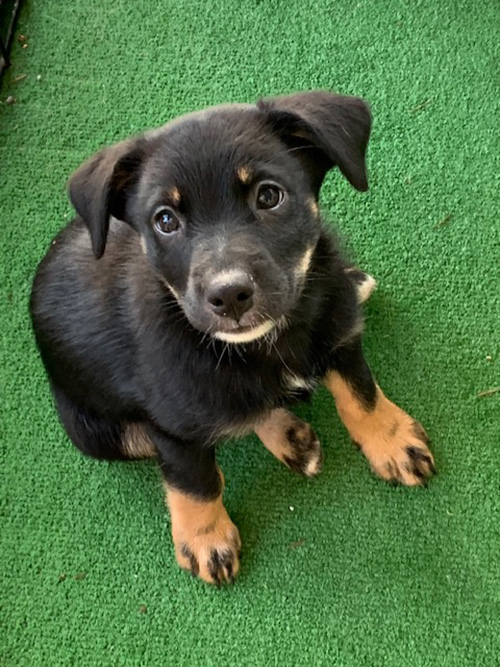 Ophelia is a strong and healthy puppy. She is happy-go-lucky and really affectionate. She loves kids, dogs and is ok with the cat. She is a baby, so the world is hers to be had. She did great on her long car ride to get to her foster home, and I do not expect any problems with her in the car in the future. Crate training is a work in progress, as is house training. Both of these skills will need to be continued by her forever family, as she is still influenced greatly by her siblings and their shenanigans. She eats well and loves her water bowl. She also likes to romp around in the little pool outside.
She is a digger and a fence is merely a suggestion for containment. Outside supervision will be required with her until she can be trusted in a fenced yard. These puppies came equipped with the knowledge of digging under fences and they can let themselves out in a matter of 3 seconds flat… Not so fun for their humans! This is not really a problem, training will help relieve this behavior. As will getting plenty of exercise and mental stimulation. I have no way of knowing if Ophelia will grow into being an athlete, but I can tell you that she has plenty if energy and she loves to learn.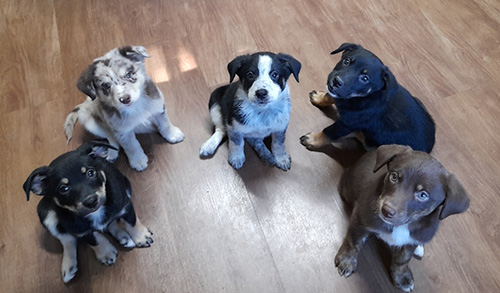 Ophelia and her siblings are mixed breed - Mother is a BC/mini heeler mix, dad is a BC/lab mix.
---
Photos
---
Videos