Bonnie Jean
Gender: Female
Age: 8 Years
Height: 20"
Weight: 52 lbs
House-trained: Yes
Fenced yard required: Yes
Location: Northern Michigan
Foster Home: Kelly


Crate-trained: Yes
Treat-motivated: Yes
Toy-motivated: No
BC Experience Required: No
Good with dogs: Yes
Good with cats: Yes
Good with kids: Yes
Commands: Sit, Crate, Stay
---
Bonnie's first photo was titled "Freedom Ride" because, historically, that's a rescue dog's first ride when they bust free from a shelter or a random bad situation. But Bonnie's "freedom ride" was one away from a home she loved, and you see the confusion in her face as she looks out the car window. She was the beloved long-time pet (acquired as a puppy) of a woman who unfortunately was growing increasingly challenged by Alzheimers. The situation was no longer manageable and the extended family sought rescue for Bonnie.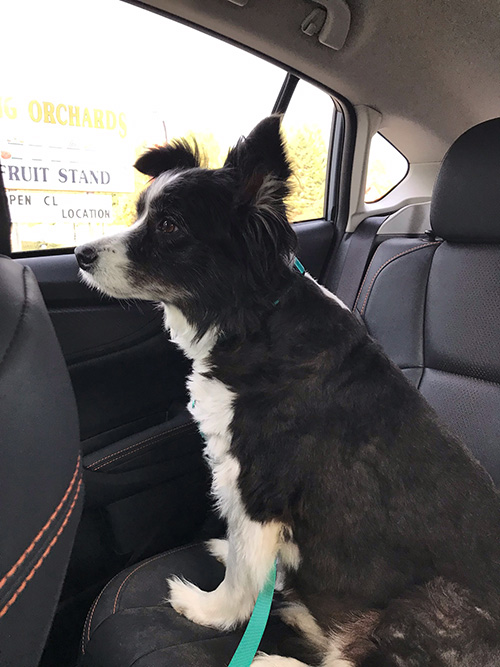 Bonnie was a happy farm dog--had free reign on a huge tract of fenced land. She was well cared for, although very heavy as the owner would forget she had already been fed. Bonnie did not tell her otherwise! She had never worn a collar, had walked only infrequently on a leash, and did not use a crate. She has adapted beautifully to all those things while in her foster home. In Bonnie's long-term home, she was best buddies with a resident cat, to the point of sleeping with her. She had a golden retriever friend that she romped and played with during visits. She ruled the roost and was a happy little girl.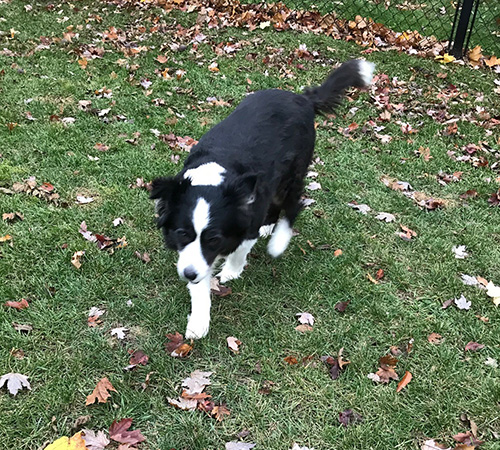 She is being fostered in a small house with a fenced yard, where there are two other resident dogs and a 3rd who visits regularly. Bonnie was wary--not unfriendly, but a bit frightened--of the other dogs at first. She is whip-smart, and picked up on the household routines very quickly. She had never used a crate, but guess what? The other dogs got a bite of cheese when they crated up. No problem, then, into the crate she went! Within a day, she was running out of the house and right back in after potty breaks. After a few weeks she was comfortable enough to play-bow, chase and wrestle with the others.
Bonnie is currently taking two long leash-walks per day. She does not pull on leash, and seems eager to go. She is doing that in addition to running and playing with the others, and on a regular feeding schedule. The weight is falling off. She does not try to jump onto a bed, but HAS found a favorite easy chair she loves to sleep in. She knows when you are talking about her and has the most adorable head tilt as she listens.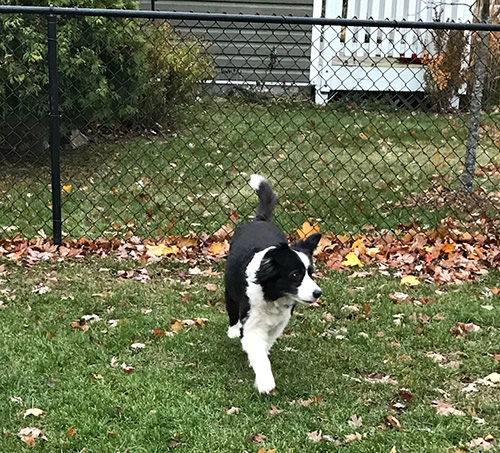 Her health is good. The family stated she had an episode of flea issues earlier this summer. At that time her fur was cut very short and she underwent treatment, which has been maintained. Her coat is starting to grow out and get a little shinier. She is going to be a gorgeous, floofy girl when all is said and done.
Bonnie is getting used to the idea that her life is now different. She has even seemed to settle into it, and seems happy to be part of a pack. She loves to be around her people--loves the ear scratches, and long conversations. She is energetic and playful but has the coveted off-switch that many BC's do not. She is a full-blooded BC, and has some herding action in her play style with the other dogs. She sees deer and rabbits on walks and is interested, but does not seem to have a particularly high prey drive.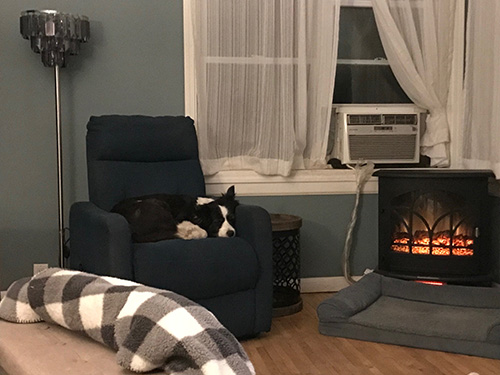 A fence would be good for Bonnie, because after 8 years, it is probably still in the back of her mind that she needs to "find her way home." At her foster home, she still walks right over to the gate each time she goes out, and looks up and down the street. Might your home be the one that helps her stop looking back? The place where she has loads of company and will live happily ever after? Bonnie Jean...she's your girl.
---
---
Photos
---
Videos