My love of border collies began most begrudgingly. While living in Louisiana with my, now, ex-husband, I was 8 months pregnant, working full-time and already had two cats to take care for. With my birthday approaching, I had eyed a beautiful bracelet, which my husband gave me. However, the next day he brought home A PUPPY. Well, I wanted no part of the commitment involved with this little caramel eyed, bundle of gold and white fur, making messes and all kinds of noise. That lasted about a day. Chev is a border collie/springer spaniel mix who was the result of an accidental litter. The bracelet is long gone, but my little Chevi-love is still shining brightly in my life after 13 years, albeit a little slower and a tad more white in the face. She will always be my pupper with the most beautiful smile in the world! One of my favorite memories of Chevi is when we were living on the farm. She would jump off the hayloft into the loose hay; all you could see were golden ears flying and then a puff of hay flying up. Out Chev would come, shaking off the hay, to do it all over again.
Daisy is a personality all her own at our house. She is incredibly smart, not shy about letting you know what she wants, and a constant source of pleasure. We would be lost without our girl. Daisy shares her bed with Caitlin every night (though technically it is Caitlin's bed, Daisy has the majority of the space), and wakes her every morning with a kiss as soon as the first eye opens. She is a loving, intelligent little clown. One of my many favorite memories of her is when she saw her buddy, Molly, a German Shorthair Pointer pup, heading for the road. Daisy came flying from around the house and herded her off in another direction, then barked at her (a dogspeak version of a stern lecture). Our own little safety patrol :-) She is also fearless, riding 4-wheelers, a horse, and in skidster or Bobcat complete, with safety harness. As long as her people say it's okay, she will do anything. Caitlin and Daisy are more like sisters, cuddling on the couch, wrestling on the floor, bike riding together. She has been the perfect companion that Caitlin had wanted.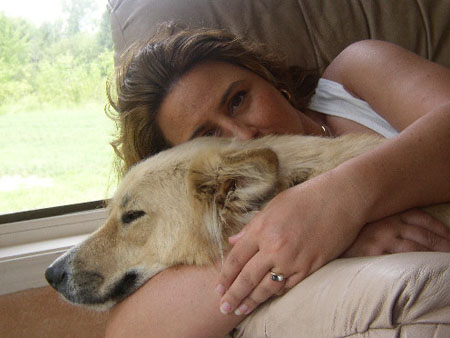 Oh yeah, me. In my "spare time" I enjoy reading although I don't get to do that often, working in the greenhouse, and doing home improvements on my house. My main time is spent with all my girls though, both two and four legged!