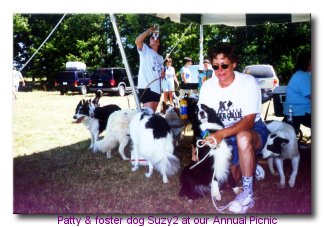 She has loved Border Collies since she was a very young girl. Until October 28, 2003, her beloved Polly, who was the inspiration for Patty's initiation into rescue, was her on-site manager for the countless dogs she has fostered. We are certain that Angel Polly continues to demand "order in this house, please" at the Rainbow Bridge.
Patty is a very modest and understated person of few words. Her heart speaks bounds to neglected dogs, however, and she is a big fan of Hug Therapy. She also has a special talent for making the scruffiest, dirtiest dog magically emerge well-groomed and sparkling! This gift enabled many dogs at the Capital Area Humane Society, where Patty has worked, to be noticed and adopted straightaway after their sessions together. As a recent visitor remarked to Patty, "Your place is a veritable Disneyland for Border Collies! Your tribe is wonderful...a band of ball-crazy hooligans if I ever saw one!" The entire lower level of her home is a huge doggy romper room.
However, one won't often find Patty enjoying leisurely moments around her home. If she isn't out at a flyball practice or tournament event, be assured that she is on the road in her trusty dog-mobile, ever ready to bring yet another unwanted furkid to safety.