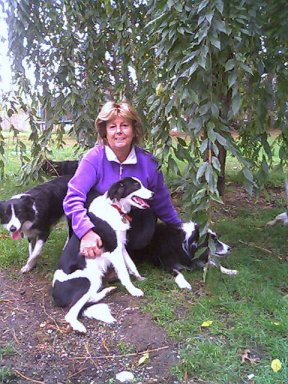 When our son, Nick, was coming up to his 7th birthday, we thought it would be nice to have a dog as a companion for us all; take the dog for walks and play with him. Neither my husband nor I had ever had a dog before and I always loved Westies. I thought that the best place to start would be to ask a local vet for her recommendations. She immediately put me off Westies and went through the usual list of companion dogs that are good with young children, which I dismissed for a variety of reasons. Then she suggested a border collie, but impressed upon me that these dogs need plenty of exercise and recommended that I take the dog to age-appropriate obedience training.
To be honest, I didn't even recognize the name, but after the vet described the breed to me, I said "Oh, you mean a sheepdog". Where I come from in England is very close to Longshawe, a famous park for sheepdog trials. Also, all the farmers in the area have these "sheepdogs" and are seen each Monday at the Bakewell Market. The vet put me in touch with a woman who knew someone who had just bred her two dogs.
We went to see the pups when they were about 4 weeks old and the owner, Julia, told us that we could have our pup when he was 8 weeks old. Knowing our background, she made a recommendation and chose the puppy we had named "Spot" - not very original but it helped us to identify him. When Spot was 6 weeks old, Julia called to say that the pups were doing so well, we could pick up Spot the following week, which we did. Spot was renamed Jed - full name Jedburgh, a lovely town on the Scottish border where Ken and I had spent some pleasant times. Jed has proved to be a wonderful intelligent, loyal, gentle companion, who does not have a mean bone in his body. He became great friends with a female b.c. Megan, when new neighbors moved in across the street.
Jed and Megan were friends for years, until Megan died. Jed was at a loss, wondering where Megan was, so after a few months we decided to look into getting another b.c. Angel was a 1.1/2 year old failed sheepherding dog (probably because of her nervous disposition) - not exactly a rescue, but in need of someone who could spend more time with her. Like Jed, she loves to chase tennis balls and, though they have never been soul mates, they get on quite well together.
Several years later, Diane Barrett got involved in b.c. rescue. I remember her first dog was a handsome b.c. named Darby. I suppose I got suckered into it, but haven't regretted my involvement one bit. In August 2001, we fostered Mitzi a lovely b.c. mix puppy who came and stayed. She is a little rascal, but we love her.
Since then, Linda and her husband Ken have provided a safe haven for several foster dogs, and have special soft spot for the seniors. They've adopted two; Daisy (2009) and Rona (2010). Ken is also the artist behind our exclusive pottery Border Collie mugs.