Hi, I'm Kathy. My "addiction" to border collies started when my husband and I adopted our first border collie mix "Cody" in 1994. Along with our stupendous springer spaniel "Tucker" we started our endeavor to enjoy life with activities involving our dogs. We trained in obedience and flyball and discovered how much fun it can be to share time with our four legged kidz! In 2004 we lost Cody to sudden illness, and after a period of mourning, we adopted "Blair" from Great Lakes Border Collie Rescue. Blair was a senior dog, with special needs and we were only able to share a short of a time with him when we lost him to cancer. "Blair" further entrenched my love of Border Collies with his rock star personality and motivated me to become a volunteer with the group that would give this cast away old farm dog a better life than he had known. Before he passed, Blair was an ambassador at dog shows and adoption events and relished in the attention and love he received from humans.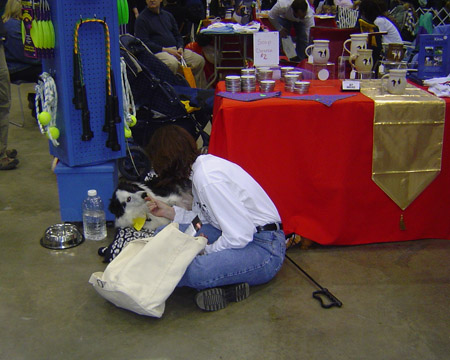 After Blair passed over the bridge, my husband and I became foster parents for GLBCR. One of our foster dogs became the next permanent addition to our family. "Sabre" was a shelter dog in rural Indiana saved from euthanasia by GLBCR. He was terrified of just about everything, but had a glimmer that was palpable to me from the moment I saw his photo. It seems other GLBCR volunteers knew he would never leave our home before I did. From humble and terrified beginnings, Sabre has blossomed into a wonderful companion, and an accomplished agility partner. He has achieved many agility titles, and his Canine Good Citizen certificate and is also a frequent ambassador for rescue. The addition of Sabre to our family was a perfect match to not only my husband and I, but to our Springer Spaniel "Tucker" who was 10yrs old at the time of Sabre's adoption. We recently had to release Tucker to the rainbow bridge at 15-1/2yrs old and miss him terribly.


In keeping with our love of Border Collies, "Wyndie" has become our newest family member. Still a pup, we know the future holds boundless opportunities for fun and frolic with this energetic girl. Wyndie loves to wrestle with her brother, Sabre and has begun her training in obedience and agility and is one of those border collies that will drop the tennis ball in the shower with you. It's ALWAYS a good time to play ball!!! Right? It is in our plans that when Sabre has passed his prime for agility, that we will become a therapy dog team and visit seniors and nursing homes. He will so enjoy all the petting and attention he will receive in that endeavor!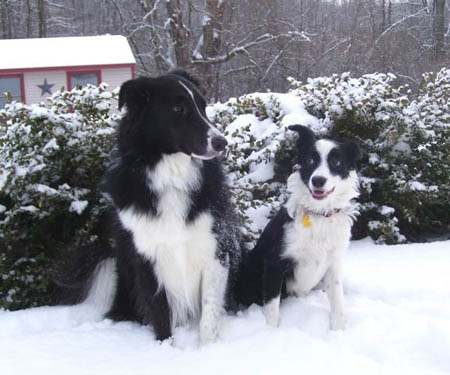 As a volunteer with GLBCR, I love the happy endings we create. Those "happy tails" keep me enthused and working for the cause of rescue. Hats off to all the volunteers that help make happy futures for our rescued border collies by giving of their time, home, help and heart!