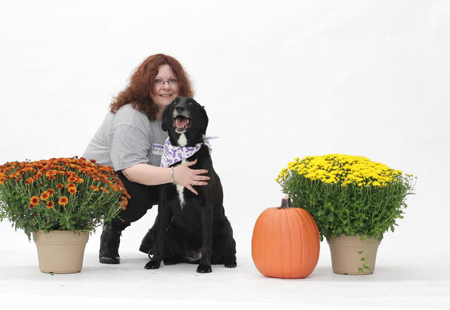 Deb with Darcy, a "purebred Border Collie" adopted from GLBCR in 2005.
Deb came into the world an avowed animal lover. As a child, she shunned dolls in favor of stuffed animals. Her first experience with rescue was very hands-on; she personally saved her beloved gentle giant Retriever boy Bart, who became her first "very own" dog as an adult. After Deb bought her own home a few years later, she felt that Bart wanted a sister, so off she went to the local humane society with the intention of adopting a "big dog who doesn't have much time left at the shelter." She went home with Ms. Murphy, a BC/Husky spitfire, alpha queen of the universe.
She began to learn more about Border Collies in an attempt to understand the very intelligent and eccentric Murph. Then came Dude, an older epileptic Border Collie, the ultimate mama's boy. The saintly Bart now shares his home with yet a fourth BC, the curly-coated Baeleigh, who was allegedly to be a foster for a long weekend.
Deb came to be involved with GLBCR at a distance after meeting founder Patty Raymond on an internet BC discussion list. When Dude had to undergo emergency surgery, Patty picked up the phone and called Deb and from her opening statement "hey, it's Patty; what can I do", the friendship was forged and so was Deb's interest in her rescue efforts. For a couple of years, Deb stayed on the fringes of the group, helping out where she could and passing along requests to help senior and special-needs BCs. That was only fair for so long, so Deb joined the group in 2002 as a volunteer, and she now serves as our very special Volunteer Coordinator. We're also very lucky to benefit from Deb's exceptional knowledge of canine health topics. The senior and special needs furkids remain her soft spots.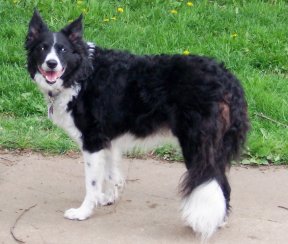 Baeleigh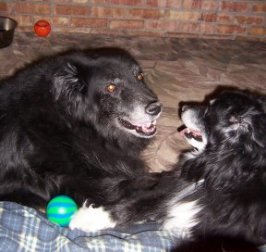 Bart and Dude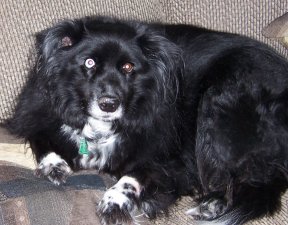 Murphy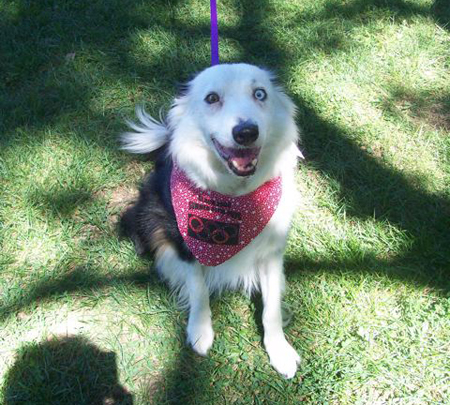 Luke, adopted 2005