Tex
Gender: Male
Age: 8 weeks
Height: Wee
Weight: 10 lbs
House-trained: learning
Fenced yard required: no
Location: Mid-Michigan
Foster Home: Tammy B.


Crate-trained: learning
Treat-motivated: yes
Toy-motivated: yes
BC Experience Required: No
Good with dogs: yes
Good with cats: yes
Good with kids: yes
Commands: Sit, working on: come, kennel up and NO!
---
Tex is a bruiser! His favorite game is a good wrestle. He even instigates Home Dog in a rousing game of chase. I call it coos and robbers, as one of them usually has a toy in their mouth through the duration of the game. He is the smallest of the pups and he has boundless energy. I also call him sweet-baby-boy. He has a wonderful affectionate side to him.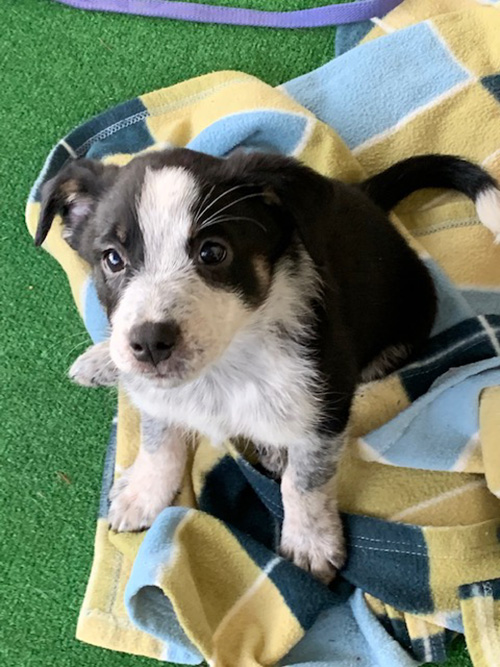 Tex likes toys of all kinds. His biggest "problem" is that he will eat ANYTHING he can get his teeth on. And he is nosy! Very adept at finding things he shouldn't have. He is a good eater and loves the water bowl. He was good in his bath. He is NOT potty trained, but we are working on it. He can be noisy in his crate at times, but learning to settle more quickly every day. He will need patience and time to complete his crate training journey. He has only just begun!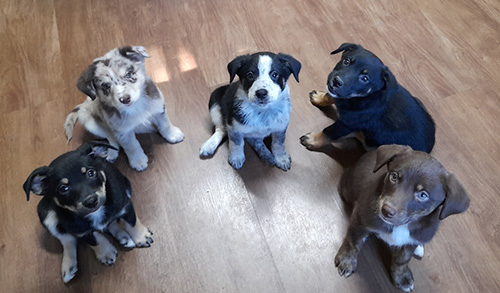 Tex and his siblings are mixed breed - Mother is a BC/mini heeler mix, dad is a BC/lab mix.
---
---
Photos
---
Videos