Rinnie
Gender: Female
Age: 6 Months
Height:
Weight:
House-trained: almost
Fenced yard required:
Location: SE Michigan
Foster Home: Jo


Crate-trained: Yes
Treat-motivated:
Toy-motivated:
BC Experience Required: No
Good with dogs:
Good with cats:
Good with kids:
Commands:
---
Rinnie & her brother, Stomper, are like two Oreos without the white stuffing. While Rinnie's face is thinner and more border collie looking, Stomper shows more of the Golden Retriever in his face, more squared and a bit larger than Rinnie's. Both pups are biddable and loving.
Rinnie is extremely attentive and snuggly with her human. One of her favorite activities is fetch and at 6 months will generally bring the toy right back to you. She has terrific recall and is usually the first one in the door when called. Of the two pups, Rinnie is the more vocal and sassy one but not excessively so. Alarm clock broken? No problem. Rinnie is quiet in her crate all night but seems to be an early riser starting at about 6:26 am. She will whine to come out of her crate; this seems to be her 'GO' time.
Running is one of her favorite games whether she is doing the chasing or being chased. And she is FAST. Indoors these pups enjoy wrestling and playing tug with their foster siblings.
They have learned to sit before they are permitted to come out of their crate and to sit before treats are dispensed. They know what 'crate' means and willingly go in – especially if a treat is involved. They are almost completely housebroken – only an accident once in a while. They know the words hungry and treat responding accordingly.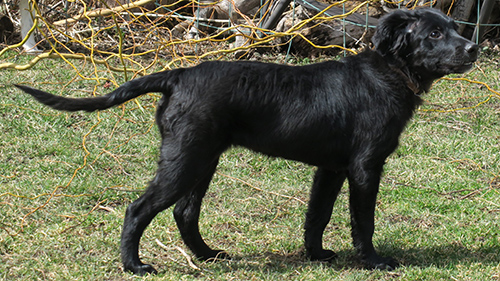 ---
---
Photos
---
Videos