Opal
Gender:Female
Age:8 weeks
Height:Wee
Weight:10 lbs
House-trained:learning
Fenced yard required:tbd
Location: Mi-Michigan
Foster Home: Tammy


Crate-trained:learning
Treat-motivated:yes
Toy-motivated:yes
BC Experience Required:no
Good with dogs: yes
Good with cats: yes
Good with kids:yes
Commands:Sit, working on come, kennel up and NO!
---
Opal is the smaller of the "twins". She is a sweet and saucy little girl! She is very affectionate. She has the most adorable little tan eyebrows that are very expressive.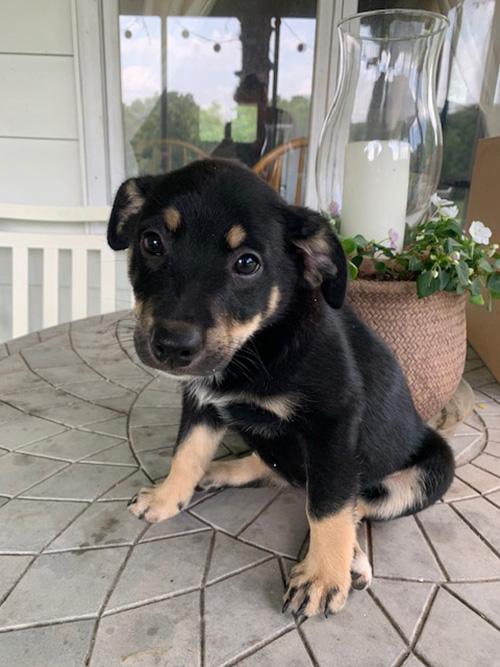 Opal is curious and is always looking fir things to play with. She likes toys of all kinds and she loves a good game of chase or wrestling with her siblings. She enjoys chasing the resident dog and she is respectful of cues from the resident dog and cat! She is curious about the kitty, but she does not push kitties limits when the cat gives a good warning noise.

Opal is not as interested as her siblings in the splash pool, however she is not totally opposed either. Car rides seemed to be no problem for her long journey to her foster home and I do not expect any problems in the future. She is a baby, so all experiences come with a learning curve.

Opal loves people of all sized and ages. She loves to be snuggled and will melt right into your arms for affection.

Opal is wicked fast when she chases the resident dog! Not sure if she is an athlete in the making, but she loves to run with her face to the breeze. She is a lovely little girl and whatever family adopts her is a lucky family indeed!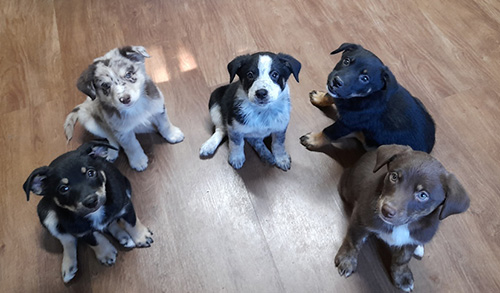 Opal and her siblings are mixed breed - Mother is a BC/mini heeler mix, dad is a BC/lab mix.
---
---
Photos
---
Videos