Nova
Gender: Female
Age: 1 Year
Height/Weight: na / 45lbs
House-trained: Yes
Fenced yard required: No
Location: Northern Michigan
Foster Home: GLBCR


Crate-trained: Yes
Treat-motivated: Yes
Toy-motivated: Yes
BC Experience Required: No
Good with dogs: Yes
Good with cats: Yes
Good with kids: 6+
Commands: Comes to call, sit , stay, settle, get your ball, no bark, wait
---
Nova is enjoying the winter weather - how about you?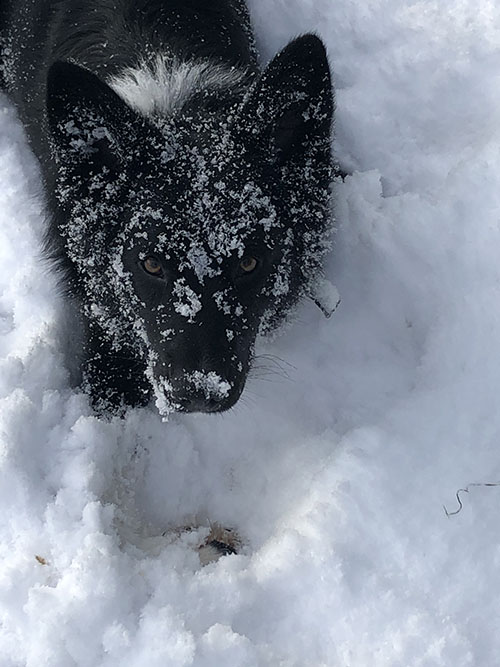 ---
Nova is a big girl and will make you laugh, she reminds me of a young bear in her puppy movements. She is a very smart girl with a nice even temperament she learns quickly and likes learning. She loves water and plays in it with pure joy.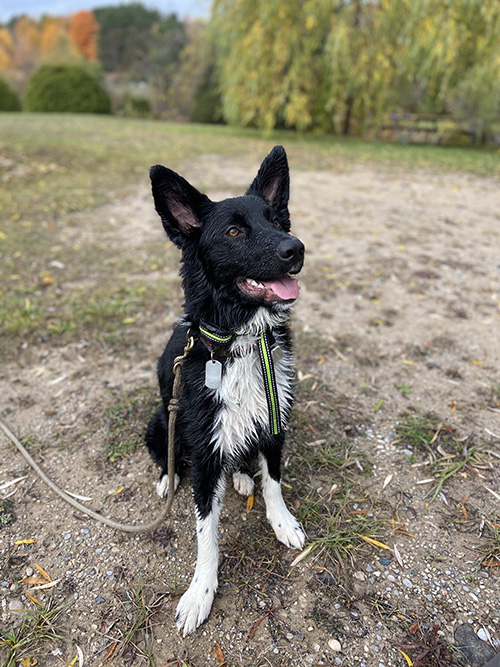 She is pretty good w other dogs but can be pushy. Nova needs to chew something hard, she will tear up squeaky toys but does love them. ..she loves .running, chasing ball, riding in the car,... she will follow you from room to room. And wants to help. Nova sleeps on a dog bed in the bedroom, she's an early riser and hits the floor with energy. She needs open space to run and if she doesn't get her exercise you will see her naughty side. The toilet paper roll is shredded, she bugs the other dogs, whines and circles the room. Other times when she paces seems she just needs a time out in her crate.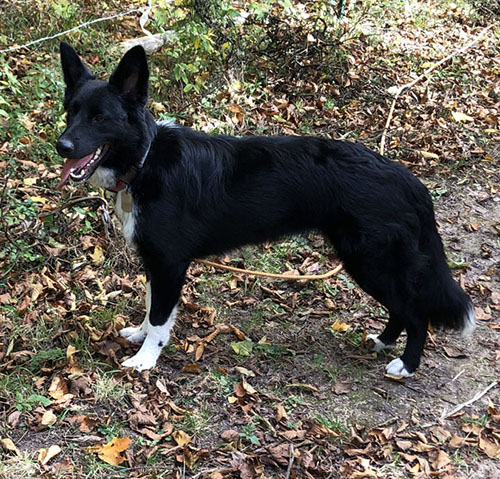 She should be in the crate when no one is home or she will find entertainment on her own. When she is let out of crate she is wound up. Words and phrases she knows - what are you doing, (she comes running from out of sight and seems to me to say nothiiing ...sit, wait, no , settle down, up. Outside, no barking, go lay down. She likes to "talk" and expects you to do your part... =you want to go outside, poop? Hungry, .? If you prompt outside and that's not what she wants she will go lay down.... Which is pretty funny to see. You can actually see her think.
If you are looking for a devoted companion to share fun with, to cuddle with to run with this is the girl. She is funny energetic curious still A little puppy naughty yet with a lot of potential. ..
---
Text.
---
Photos
---
Videos