Miss Maggie
Gender: Female
Age: 7 Years
Height/Weight: 19 1/2" / 60 lbs
House-trained:Yes
Fenced yard required: Yes
Location: NW Lower Michigan
Foster Home: Kelly


Crate-trained: Yes
Treat-motivated: Yes
Toy-motivated: Learning
Likes Car Rides: Yes
Good with cats: Yes
Good with kids: Yes
Commands: Sit, Shake, Speak, Down
---
Miss Maggie was adopted in December, 2017. Here she is with her new family!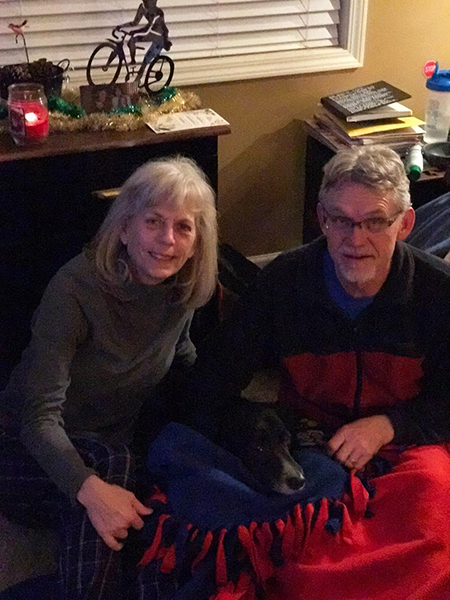 ---
Miss Maggie hasn't been around many other dogs, but is taking the opportunity to learn some of life's finer things from her foster siblings. She's learned that when other dogs run, it's sometimes fun to get right in the game and do the same. She's not sure what that ball or Frisbee is for, but has learned that picking them up and running causes all sorts of heck to break loose. And she's learned that a Nylabone is something worth spending some time on.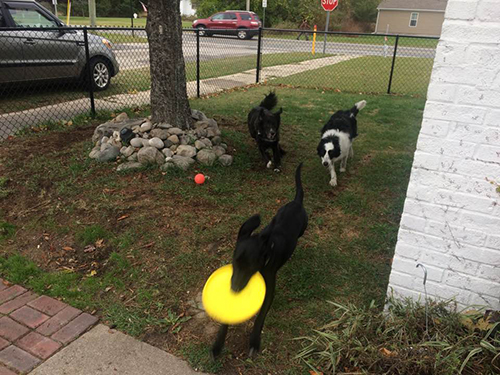 Miss Maggie comes from northeast Indiana, from unknown origins. She wandered into the yard of the family who most recently owned her 2 1/2 years ago as a stray. Not having been microchipped, her original owners were never found. With such a history, her exact age is unknown but the vet estimates her to be 7-8 years. At some point in her life she was shot, as she still has a pellet lodged in her flank (vet says no reason to remove). She has been an indoor dog in her most recent home, although the good Samaritan neighbor who suggested she go into rescue reported that she was often tied out and ignored. She was not taken on walks or played with in the yard, and it's likely she was free-fed poor quality food. At 60 pounds, she could stand to hit the gym a bit more frequently!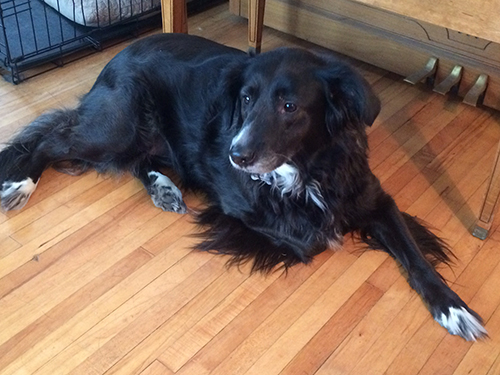 She has been in her foster home nearly 2 weeks now, and has made great strides on many levels. At first she refused breakfast until figuring out that if she did that there would be no more food till dinner. Between a regular eating schedule and plenty of running outside she has already lost 5 pounds. Other than her weight and an infection in one ear, she is exceptionally healthy. She is heartworm-free, and all her bloodwork, urinalysis and fecal exams were normal and free of any issues. She is agile, jumps into a car or up on furniture with ease, and greets people energetically at the end of the work day.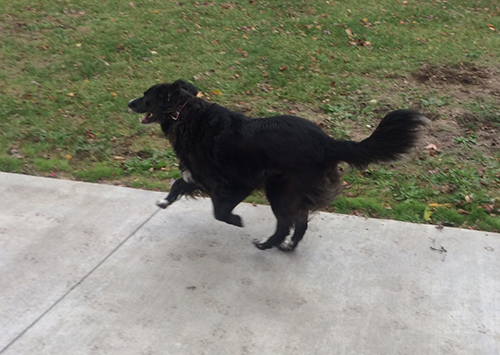 This is such a nice girl! She is friendly with everyone she meets, and was a dream at the vet. She endured a nail trim, vaccinations, microchipping and ear wash like a champ, never whimpering or trying to jerk away (of course they were giving her treats!). Her tail never stops wagging when someone talks to her, and she's always ready for a head scratch. She walks nicely on a leash. Warning to potential adopters...she is being spoiled in her foster home by being allowed on the furniture. If told to get down she is immediately compliant, but...she does like to be next to her people. She has not needed to be crated during the work day in her foster home. Her former home stated they crated her at night, but this foster home has not.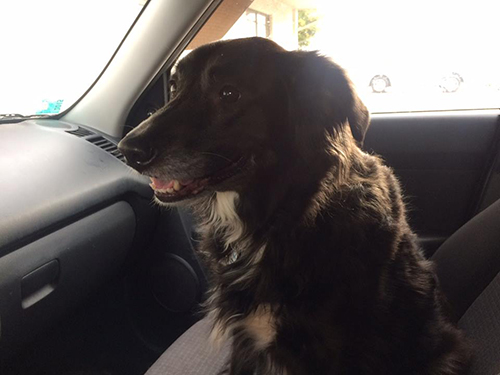 She will bark at the normal things dogs bark at--the UPS man and school buses or when startled by a loud noise. But she does not bark for extended periods, and has the bonus of a cute little "woooo-woooo" at the end of some of her barks. When we first had her I thought she would be happier being an only dog, due to being one in the past. But over this past week she has come leaps and bounds in learning to be part of a pack. It could be that it does not matter if there are other dogs around, as long as she has plenty of attention from her people, which is what she seems to crave most. Could you be one of Miss Maggie's people?
---
---
Photos
---
Videos