Levi
Gender: Levi
Age: 18 Months
Height/Weight: 19.5"/45 lbs
House-trained: Yes
Fenced yard required: tbd
Location: Mid-Michigan
Foster Home: GLBCR


Crate-trained: Learning
Treat-motivated: Yes
Toy-motivated: tbd
Likes Car Rides: Tes
Good with cats: Curious
Good with kids: Older (herdy)
Commands:
---
We all have a favorite pair of jeans: Button Fly, Boot Cut or Straight Leg. It doesn't matter the type of jeans you prefer because Levi is a relaxed fit and best friend material. He's definitely a comfortable fit. Levi can be described with just words starting with the letter "C". The short list includes: Companion, Curious, Calm, Cautious, Co-pilot, Comedian, Colorful-Curly-Coat and Cute!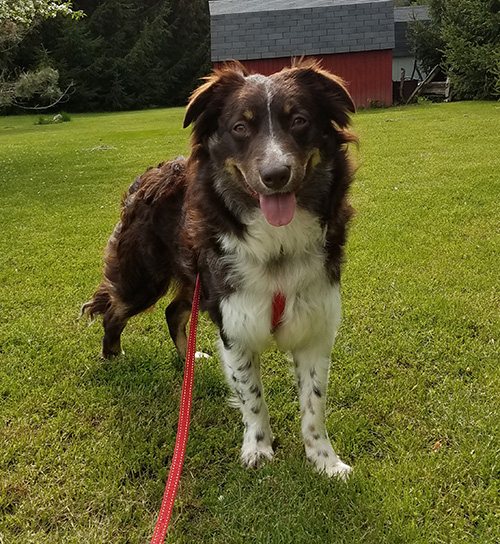 Levi's a great companion. He loves to be by his person's side. He doesn't venture too far and always has his person in sight. He's curious and likes to explore new places both inside and out. He's calm inside the house. He lets his person enjoy their dinner and a movie without begging. He has been cautious when meeting new people, however, he looks for direction and warms quickly. He's, also, cautious in his home environment a knock or doorbell either live or memorex (on TV) he will bark a couple of times as he runs to the front door to listen. He looks for direction and settles quickly once told "it's ok". (It's really cute when he reacts to the TV, but we will get to "Cute" later).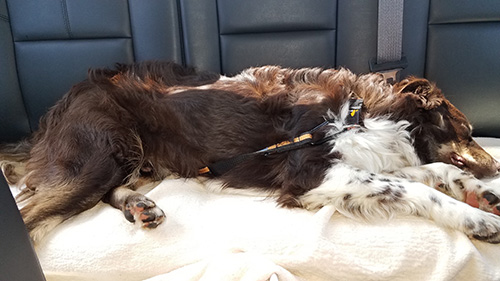 Levi's a great co-pilot. He likes car rides. He now willingly hops in and out of the car with excitement. He's still learning to settle down in the car so sometimes he gets a seat belt tether. He looks out the window and occasionally sticks his head out the window for a better view or maybe a better scent. On longer trips he takes a nap. He certainly has a sense of humor. This special little guy is a real comedian at times. He will grab a toy and do a goofy walk to show it off. He likes to play-bow himself around a chair, coffee table or even a tree in the yard when the mood strikes him.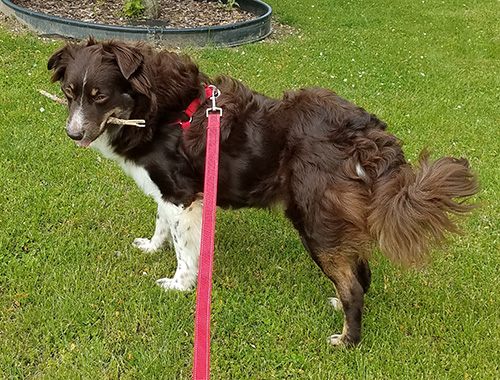 Levi is king of the colorful-curly-coated canines! He has miles and miles of curls. His beautiful coat is soft and fluffy. It makes him look much bigger than his perfect 45 lbs. He loves to be brushed and just may ask you to continue with a gentle paw when you finish. Finally we have reached the "Cute" stage. He is so cute on the inside and on the outside!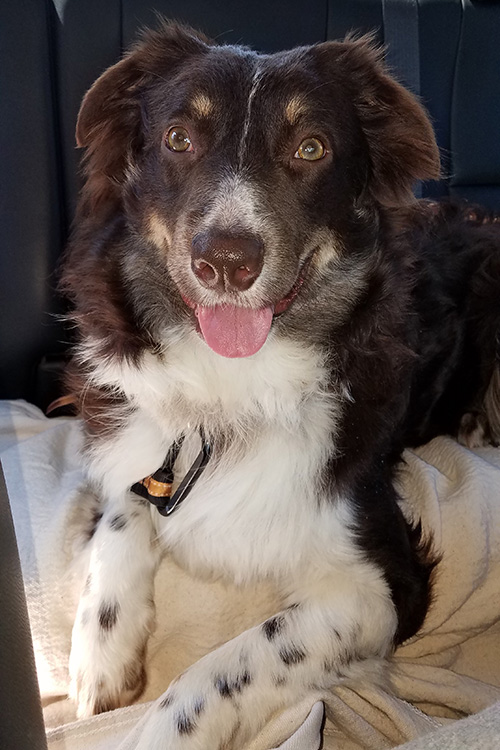 William Shakespeare once said, "All the world's a stage, and all the men and women merely players" Levi with his good looks, playful disposition and desire to be by your side is destined for the title role in your life. He'll match your energy inside and out. Screen test this guy and he will nail the role of Fur-ever canine without a doubt.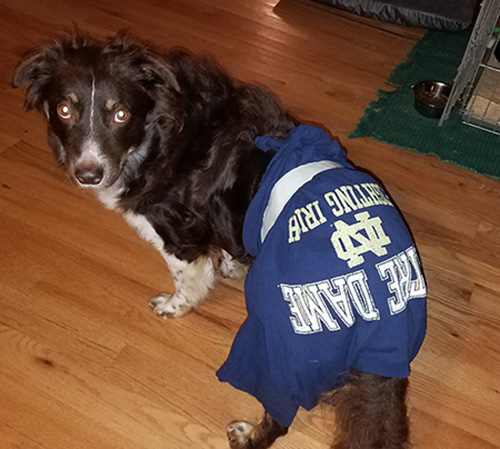 Levi's "post-neuter" fashion statement!
---
---
Photos
---
Videos