Kenzie
Gender: Female
Age: 6-7 Years
Height: 25"
Weight: 75 lbs
House-trained: Yes
Fenced yard required: Preferred
Location: SW Michigan
Foster Home: Shaun and Renee


Crate-trained: No
Treat-motivated: Yes
Toy-motivated: No
BC Experience Required: No
Good with dogs: Yes
Good with cats: tbd
Good with kids: tbd
Commands: Sit, shake
---
Meet Kenzie! Kenzie is a border collie mix (with a definite bias towards "mix"!) She is approximately 6 to 7 years old and is a tall, lanky 75 pounds. Kenzie is a very relaxed, low energy gal. She happily sleeps in and takes her time approaching the day. Walk is her absolute favorite word, and she loves a nice, slow stroll where she can thoroughly sniff everything. Kenzie also enjoys being where her people are and will happily nap near their feet. With proper introductions, she gets along really well with other dogs. Kenzie enjoys the quiet life, sometimes getting a little anxious with a lot of commotion, and would most enjoy a home without small children.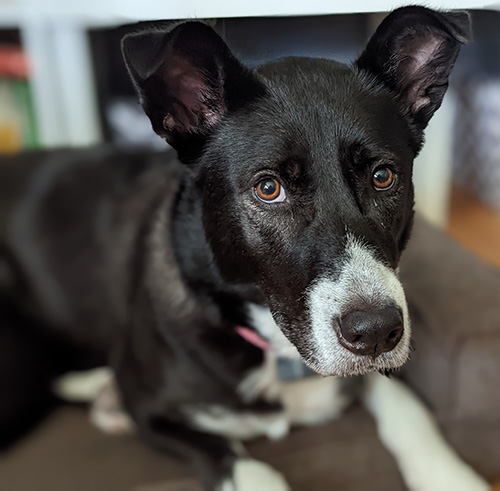 Kenzie is an excellent travel companion; she hops right in the car and happily watches the world go by in high traffic, in town situations as well as on the highway or driving country roads. She's so good during car rides you might forget she's even there! She is not crate trained but does very well in the house on her own and has never been destructive, even when left alone for longer periods of time.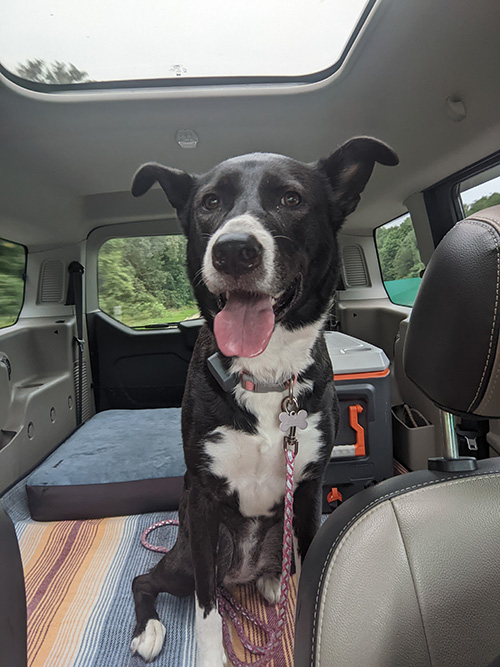 While she knows sit and shake very well, she doesn't have the best recall. While she definitely hears her name and acknowledges it, just doesn't always come when called. Her recall is more "on her own time". Due to this a fenced yard would be highly preferred at her new home. She is definitely food motivated but has very little interest in toys/fetch. She does enjoy a chew toy now and again, but not for long sessions.
One known quirk is that she may be skeptical or tentative on hard indoor floor surfaces like tile or wood in a new setting. Putting a few towels down allows her to investigate, gain some confidence, and then they can be removed when she's comfortable. She has also shown some anxiety around busy intersections, but once she walks them a few times she again gains confidence and is fine in subsequent walks.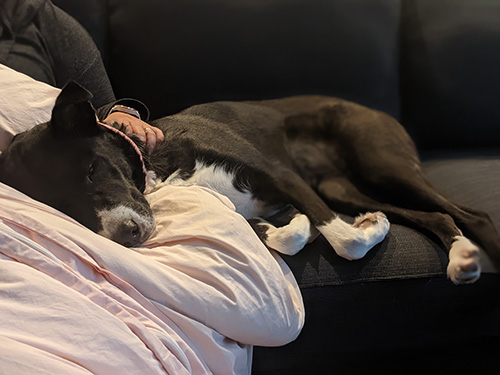 Kenzie is learning quickly how to be a cuddler. She loves a good belly rub and neck scratch and will happily lay her head in your lap while she gets attention. Kenzie does not have a history with cats but met her foster neighbor's kitten and responded so well - very interested but was quite gentle and just wanted to sniff her all over. Overall, Kenzie is just hands-down a really great dog. If you are looking for a low key but very devoted companion, Kenzie could be the girl for you!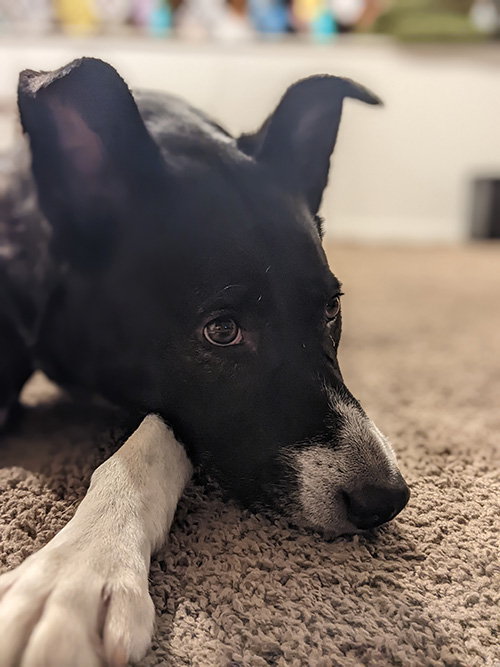 ---
---
Photos
---
Videos