Finn
Gender:
Age: 1 Year
Height/Weight:14.5" / 18 lbs
House-trained: Yes
Fenced yard required: preferred
Location: SE Michigan
Foster Home: Jo


Crate-trained: Yes
Treat-motivated: Yes
Toy-motivated: Sometimes
BC Experience Required: Yes
Good with dogs: Yes
Good with cats: Yes
Good with kids: No
Commands: Knows: sit, crate, no, okay (his release command from waiting in the crate or at a door) Working on 'shhh', wait, stay, leave it, drop it.
---
From the beginning, Finn has always been loving, sweet, loyal, playful, smart and cuddly.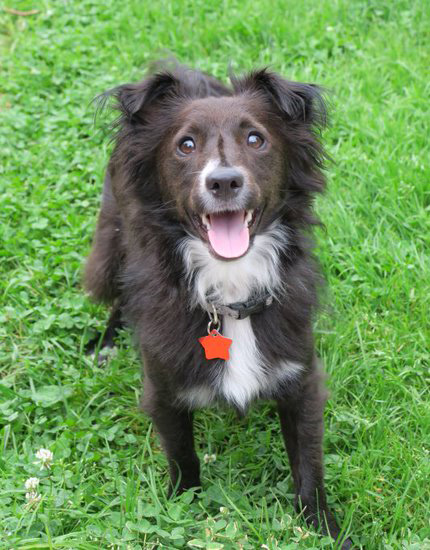 Now he has learned boundaries and more commands. He has gotten much better when told to stay, sit and lay down. Finn has also learned to wait before exiting his crate and has learned to wait for the release command when it comes to feeding time. His whole demeanor has become calmer and less chaotic and is confident letting his human take control of situations instead of being barky and nervous.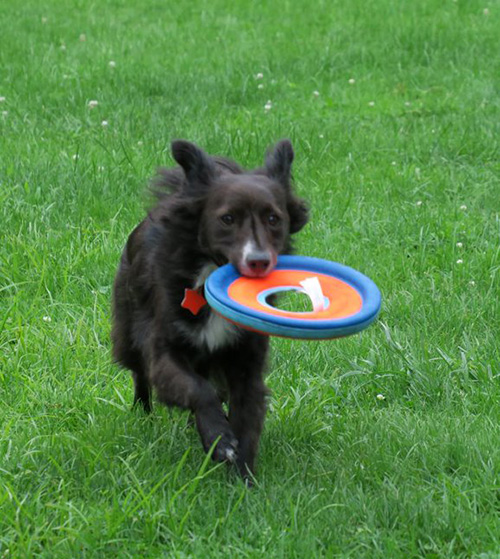 He used to have 'stranger danger' symptoms and would bark at new people. Recently, I had a party at my home with over 40 people attending. He barked at the first 2 people who entered but then took cues from his resident siblings and me and did NOT bark at subsequent arrivals. This was a huge accomplishment for this boy. Finn was completely appropriate with my party guests. Every time I looked so see where he was, someone had him sitting on their lap. I was definitely a proud foster mom that day.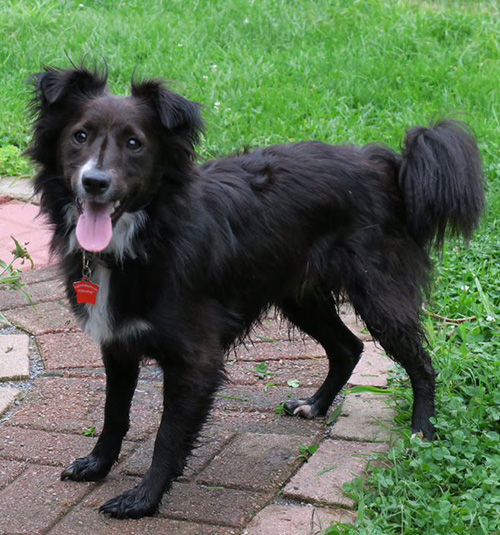 He still needs work on leash training but this sweetie is improving in all aspects of his behavior.
Finn LOVES his people and is quite ready to be adopted and be the center of attention in your world.
Are YOU the one for this love bug?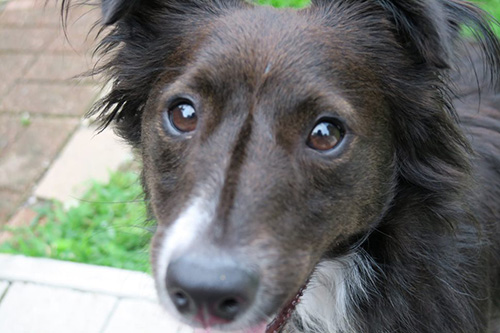 ---
Finn was relinquished and entered into foster care on April 24, 2021. This young boy is a 'spitfire' and loves to play, do yard zoomies and play with his foster siblings. Talk about a cuddle bug . . . . his favorite thing is to put his butt on your chest and curl up under your chin. Hard to see the TV that way but he likes it. He will also lie between your legs or cuddle up next to your hip. Bottom line, this boy wants to be the center of attention and just wants to be with his human.
Behind on his training, this guy is going to need a strong handler who can continue the training started at his foster home. He wants to chase cars and bicycles because no one has ever taught him that it is not acceptable. Finn is extremely teachable and wants to please but needs to be shown the way and redirected from old habits. On our first walk, a car went by and he lunged at it. With treats in my hand and a wait signal given prior to the next car and bicyclists coming, he waited patiently and then accepted his treat with praise. He does watch you – good eye contact. Meeting new people confuses and scares him so he can be extremely vocal until the newcomer gives him treats; after about 1 minute of treats and praise, he is your best bud. Finn has been meeting many people at his foster home and he gets better and recovers faster each time. This boy thrives on calm situations, soft talk and treats.
Because of Finn's 'affinity' (sorry, couldn't resist the pun) to chase things, he is not appropriate around children and will not be placed in a home with children.
His former home said he loves to play with cats but I am unable to test that. He also enjoys playing with other dogs biting them to get their attention so they will chase him or get them to move so he can chase them. Finn can be quite vocal when he plays or wants attention. Although amiable, the only time he can get snippy with another dog is when they have HIS FAVORITE TOY or something he deems truly valuable to him. I have nylon bones lying all over my house, but if another dog tries to steal the one he is favoring at the moment he may cause a bit of trouble. He likes to play tug especially with a big green ball that came with him.
He did manage to escape from my house (when one of my coaches let him squirm past him). Now I know Finn does not have great recall. Wanting to see new things and check out (and bark at) walkers, workers, etc., he can be a little tough to corral if he escapes.
I was told that Finn would get grabby with his food. That only happens sometimes. Prior to any treat, he is required to sit first and we are working on 'leave it'. He's getting it most of the time. He also has to wait at doors or wait to come out of his crate. His release is 'okay'. I do believe this boy has the potential to learn LOTS of things given proper guidance and direction.
Finn has a tendency to give back whatever attitude he gets. So if a dog behind a fence barks and charges at the fence, he will return the attitude. Redirecting him with a toy works about 80% of the time. Finn was probably permitted to use his mouth on his former owners such as in hand wrestling. Sometimes he will try to invite that kind of play by mouthing my fingers but I have been trying to avoid that kind of play. Upon leaving his crate in the morning, his excitement level is off the charts in anticipation of his breakfast and will sometimes rake his claws down your leg. Moving your body toward him with a sit command is helping with that behavior most of the time and slows his brain down for better focus.
His former family made sure he had what he needed, so anyone adopting Finn will get his crate, harness, collar, 2 dog bowls, his favorite toy stuffed dog (minus a bit of stuffing his foster siblings removed), an immensely large thick blanket which he absolutely adores, his leash and a box of toys.
His ideal home would be a calm environment with either a single person or couple with the ability to correct and appropriately redirect him from his old habits.
---
---
Photos
---
Videos