Ellie
Gender: Female
Age: 6 years
Height/Weight:
House-trained:
Fenced yard required:
Location: Western Michigan
Foster Home: Danielle


Crate-trained: yes
Treat-motivated:
Toy-motivated: No
BC Experience Required:
Good with dogs:
Good with cats: No
Good with kids:
Commands:
---
I may not be winning any herding awards, but I will definitely win over your heart with my mad snuggling skills. If a night of snacks, snuggling and sitcoms is your thing Ė we may be a perfect match.
I am a 6-year-old former farm dog and working just wasnít my passion. Now, Iím enjoying a more laid-back lifestyle while learning how to live in a home with a family. And let me tell you, the AC and just being able to relax with people are the best things ever!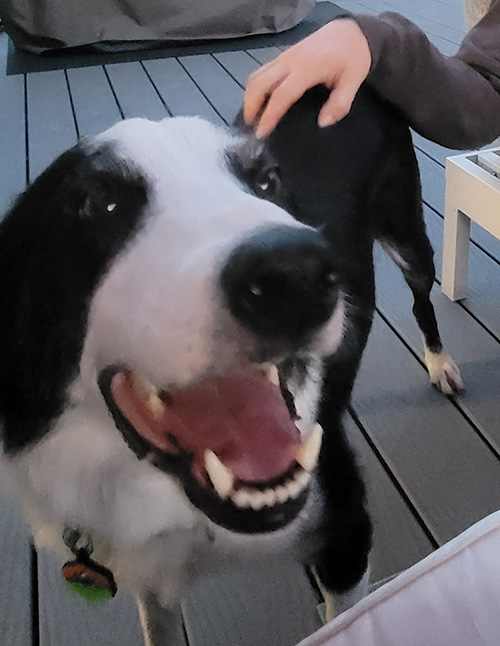 My foster brother is pretty cool, but not all dogs are as cool as he is. We like to chase each other around the back yard and wrestle until my foster mom calls ďtime-out.Ē He likes to play ball and disc, but I donít see the point of playing with those toys. I would rather go for walks, get loved on, or sleep. My idea of a perfect day would be to tag along while you do your thing and then cuddle with you once weíre done outside.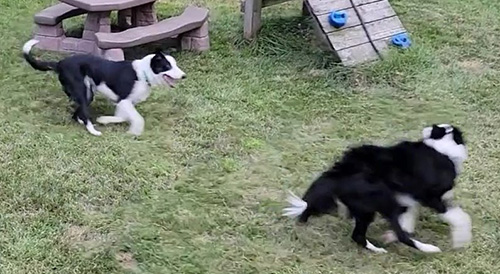 Iíd rather live in a home without small children or cats. They are fine for some people, but I donít like loud noises or quick movements and they both do those things! I typically go to my crate to avoid them, but if they come too close to my space, I do remind them to stay away from my personal space.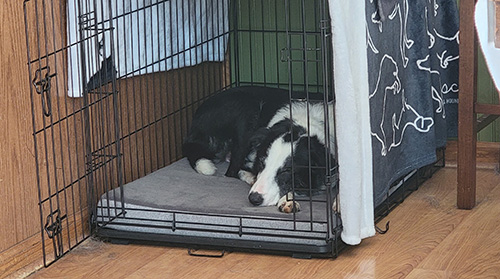 Since Iím still figuring out how to live with a family, some things still make me anxious. I sometimes like to jump and demand kisses or attention when Iím unsure about what is going on and apparently that is not appropriate. My foster mom says I am endearingly impolite, HMMPH! Iím still learning that I donít get attention when I do those things; but I get lost of pets, praise and attention if I sit and wait patiently. My favorite thing to do is be with my people and if youíre touching me, life is even better!
Like I said earlier, Iím still learning about living in a home. Did you know that people train their dogs to do things for treats? If I do what my foster mom asks me, I get a treat. How easy is that!?!?! Iíve already learned to stay in my crate until released, not run out doors, sit, stay, and come. My foster mom said weíre going to keep working on ďbasic mannersĒ but I think Iím a rockstar at this whole family dog gig.
Will you be my cuddle buddy?
XOXO
Ellie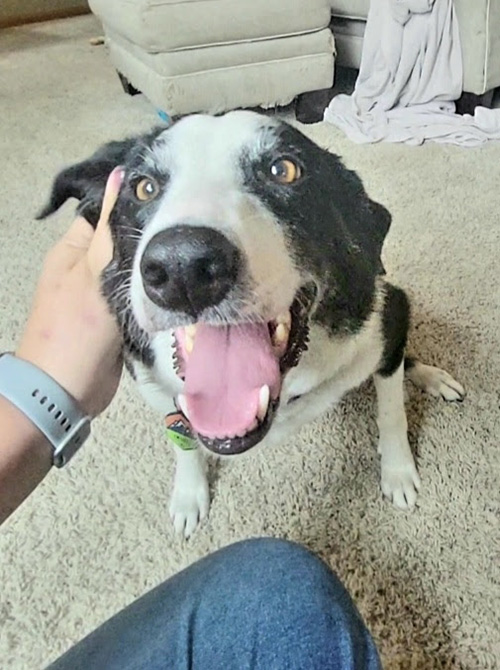 A note from my foster mom:
Ellie seems pretty easy going and does not require a ton of exercise, although she enjoys it. We typically do 1-2 short 1-mile walks during the day and one potty walk just on our block later at night. Weekends typically involve longer hikes or swimming with the family. She plays energetically with my dog and has a good recall if I need to end play. Weíve been working on settling in the house outside of the crate. Outside, Ellie does try to be the neighborhood alert dog, but I discourage the excessive barking or remove her from the situation.
Ellie has been a joy to watch gain confidence and learn how to interact as part of the family. Slow introductions and building up her confidence with lots of praise will be important for her thriving in a new home. Ellie will need time to adjust to your routine and expectations. She is a very sweet, gentle dog that honestly just wants to please people.
Ellie will not be available for meet and greets until after September 13, when she is due to be spayed.
---
---
Photos
---
Videos