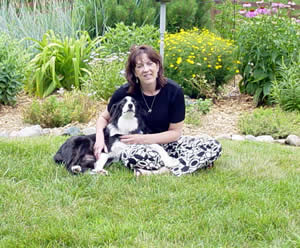 Kathy's with Caper

Hi, I'm Kathy. I've been labeled by many as a dog fanatic, which I take as a compliment really. I have owned two border collies. My current BC" Blair" is still with us and is an adoptee from GLBCR, and our dear departed border collie "Cody" was also a rescue and was the light of our doggie lives for almost 10 years. We also have a stupendous springer spaniel, which is another of my favorite breeds.

I have come to love the border collie, and have had the pleasure of partnering with both my border collies and my springer spaniel in obedience and flyball training. Our dogs are now a bit too senior to be in the sporting arena, but we enjoy their companionship and unique personalities, which enrich our lives so much.

Adopting our BC "Blair", who has some physical challenges, compelled me to give this wonderful soul a better life than he had known, and to extend myself just a little bit more to help the group that rescued him. I give what I can of my time and my helping hand in a variety of volunteer efforts with GLBCR, including being the foster home coordinator. Border Collies are an often misunderstood breed, and I love to show people what an intelligent, wonderful and enthusiastic border collie can bring to their family.

I love the happy endings that we create, and it's what keeps me enthused and working for the cause of rescue. Hats off to all the volunteers that help make happy futures for our rescued border collies by giving of their time, home, help and heart! I count myself lucky to be part of such a great group of souls, both human and canine!